Intermountain West Climate Dashboard
Western Water Assessment needs your help improving the Intermountain West Climate Dashboard! Please share your input in this short, anonymous survey which should take less than 5 minutes to complete.
The Intermountain West Climate Dashboard provides situational awareness of climate, drought, and water resources for Colorado, Utah, and Wyoming.
Click the question mark icon above each graphic to see the description of that graphic.
Weekly or monthly summaries of evolving climate, drought, and water conditions for the Intermountain West are also available from these providers:
- Colorado Climate Center/NIDIS Intermountain West Drought Status Briefings
- NOAA CBRFC Water Supply Briefings for the Colorado River Basin and Great Basin - monthly, January through May
- NRCS Water Supply Outlook Reports for Colorado, Utah, and Wyoming - monthly, January through May/June
Temperature, Precipitation and Snowpack
Current Streamflow, Forecasted Streamflow
Image
Soil Moisture
Precipitation Forecast
Seasonal Climate Outlooks
ENSO Conditions and Forecasts
Niño Regions Sea Surface Temps, past 12 months
(IRI)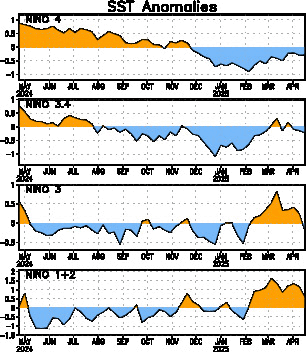 ENSO Phase Probability
(IRI)
ENSO Model Projections Plume
(IRI)
Latest Briefing
December 6, 2023 - CO, UT, WY
November was generally drier and warmer than average across the region. Regional snowfall was also below average during November and the month ended with Colorado at 54% snow water equivalent (SWE) statewide and Utah at 60% of average SWE. Drought conditions expanded slightly to cover 14% of the region with the most severe conditions in western Colorado. Strong El Niño conditions currently exist and there is an 80% chance that El Niño conditions continue through spring. NOAA seasonal forecasts suggest an increased probability of above average December–February precipitation for much of Colorado and Utah and an increased probability of below average precipitation for northern Wyoming.
November precipitation was below normal for much of the region, especially in Colorado and eastern Wyoming where large areas received less than 50% of average monthly precipitation. A few locations in southern Colorado received record-low November precipitation. Locations in southwestern and central Wyoming received average to above average precipitation. In Utah, November precipitation was a mix of below and above average conditions.
Regional temperatures were above average during November. In Utah, western Colorado and southwestern Wyoming, November temperatures were slightly above average. In eastern Colorado and much of Wyoming, temperatures were generally 2-4 degrees above average.
November snowfall was below average across the region. As of December 1, snow water equivalent was below to much-below average for all river basins; statewide SWE was 60% of average in Colorado and 54% of average in Utah. A prolonged winter storm affected the region on December 1-3, significantly improving snowpack conditions across most of Utah, western Colorado and parts of Wyoming.
Monthly streamflow during November was lowest relative to the average in Colorado where many sites along the Arkansas, Rio Grande and San Juan Rivers reported below to much-below average streamflow, coinciding with regions experiencing the worst drought conditions. November streamflow in Utah was near-average at most streamflow gauges except for a few drier sites in central and southeastern Utah. In Wyoming, November streamflow was average across most of the state except for northern Wyoming where November streamflow was above average. The Colorado Basin River Forecast Center will issue its first water supply forecast of the season by December 13.
Regional drought conditions expanded slightly during November and now cover 14% of the region, a 3% increase from late October. Drought conditions remained largely unchanged in Utah and Wyoming, but expanded in Colorado. By late November, most of western Colorado was in drought and extreme (D3) drought developed in the Rio Grande River Basin.
El Niño conditions continued during November and Pacific Ocean temperatures are consistent with a strong El Niño. There is over an 80% probability of El Niño conditions persisting through spring and a 55% chance of a strong El Niño continuing through mid-winter. The NOAA temperature outlook for December suggests an increased probability of above average temperatures for much of the region. The NOAA seasonal forecast for December–February suggests an increased probability of above average precipitation for much of Utah and Colorado and an increased probability for below average precipitation across much of Wyoming. In northern Wyoming, there is an increased probability of above average temperatures from December–February.
Significant weather event. December 1-3 winter storm. November was a relatively quiet month for regional weather, but December began with a very powerful winter storm impacting most of Utah, northern Colorado and western Wyoming. The three-day storm began very cold with snowfall across all elevations, but warmed significantly during the second half of the storm. Utah saw the most significant snowfall and statewide SWE improved from 60% of average before the storm to 113% of average after the storm. Colorado's statewide SWE improved from 54% to 85% following the storm. While early season snowpack as a percentage of average can change dramatically with single storms, snowfall, especially in northern Utah, was significant. Snowfall and SWE totals from the storm included: 38" of snow (6.6" SWE) at Tony Grove Lake near Logan, 50" of snow (6.6" SWE) at Ben Lomond SNOTEL near Ogden and 51" of snow (4.7" SWE) at Alta. The storm also brought prolonged periods of very strong winds with peak gusts approaching 110 mph at 11,000 feet in the central Wasatch Mountains.
(Left) Breckenridge, CO. December 2. Photo credit: Ethan Knight. (Right) Little Cottonwood Canyon, UT. December 3. Photo credit: Seth Arens.
The 2023 water year began with nearly two-thirds of the Intermountain West in drought. Much-above average precipitation fell across nearly the entire region during winter and many long-term monitoring sites in Utah and western Colorado broke snow-water equivalent (SWE) records. Above average winter precipitation and snowfall caused above-to-much-above average seasonal streamflow volumes across nearly the entire region. Wet winter conditions alleviated drought in many locations. An active North American monsoon season caused areas of above average precipitation in late summer and fall which alleviated drought conditions in all but 8% of the region.
Precipitation during the 2023 water year was above normal to much-above normal for much of the region, except for a large region of south-central Colorado and pockets of eastern Utah and eastern Wyoming where precipitation was 50-90% of normal. Much-above normal conditions of up to 200% occurred in pockets of western and northern Wyoming, east of the Denver area in Colorado, and southwestern Utah. Record wet conditions occurred in much of northeastern Colorado, particularly along the Front Range and counties surrounding Denver, regions of northern Wyoming from Park and Hot Springs to Sheridan, Johnson, and Crook Counties, and southeastern Wyoming near Cheyenne and Laramie. 
Temperatures during the 2023 water year were below normal for the region, besides small pockets of slightly-above normal temperatures in each state, particularly in the San Luis Valley region of Colorado. Temperatures ranged from near-normal to -6°F below normal throughout the region, with the coldest temperatures from normal observed in northwestern Colorado, northwestern and northeastern Utah, and western Wyoming. Based on mean temperature data from 1895-2010, the region experienced much-below normal temperatures, particularly in southwestern Utah, western and central Wyoming, and eastern Colorado. Record cold temperatures were observed in small pockets of southwestern Utah and Fremont County in Wyoming.
April 1st snow-water equivalent was above average to much-above average for nearly all river basins in Colorado, Utah, and Wyoming. Many river basins and individual SNOTEL sites received record SWE accumulation during the 2023 water year; as a statewide average Utah received record SWE accumulation in 2023, breaking the previous record set in 1983. The largest snowpacks were found in Utah and western Colorado including record SWE accumulation in the Lower Bear, Dolores, Lower Green, Jordan, Lower San Juan, and Weber River Basins.
Seasonal runoff volume was above-to-much-above average for all regional river basins except for the Arkansas River Basin where spring runoff volume was slightly-below average. Seasonal runoff volume for the Upper Colorado River Basin was 157% of average. Seasonal streamflow volumes were highest in Utah and western Colorado and lowest in the Arkansas and South Platte River Basins.
Drought was removed from nearly all of the Intermountain West during the 2023 water year. In late September 2022, drought covered 64% of the region. By late September 2023, only 8% of the region was in drought. In Utah, where D3-D4 (extreme to exceptional) drought covered nearly 60% of the state at the start of the water year, extremely high winter precipitation and an active monsoon in August-September caused statewide drought coverage to fall to 5% by September 2023. A portion of northwest Wyoming remained in drought after winter 2023, but a wet August completely removed drought from Wyoming. In Colorado, deep winter snowpacks aided the removal of drought conditions only to see drought return by August. Finally, drought conditions on Colorado's Eastern Plains were completely removed after very wet conditions in May and June.
Reservoir storage conditions improved significantly across the entire region except for Lake Powell which saw a more modest improvement of conditions. Reservoir storage is average to above average for nearly every major reservoir in the region. The huge 2023 snowpack brought much above average runoff volume into Lake Powell. By July 2023, Lake Powell rose 60 feet increasing from 24% to 36% of capacity by the end of the 2023 water year.